Car Rental Lot Locations for PIE/PIET01 - St. Petersburg/Clearwater Airport
St. Petersburg/Clearwater Airport (PIET01)
14700 Terminal Boulevard Suite 221
Clearwater, Florida 33762
Phone: (727) 453-7800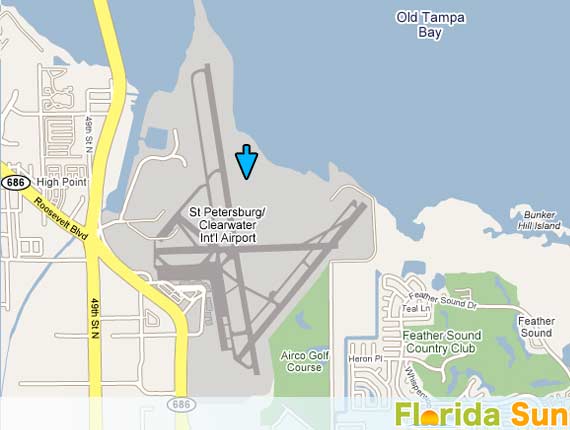 St. Petersburg-Clearwater International Airport (IATA: PIE, ICAO: KPIE, FAA LID: PIE) is an airport located in unincorporated Pinellas County, Florida, six miles north of St. Petersburg, serving St. Petersburg, Clearwater, and the surrounding Tampa Bay Area in Florida.
While most scheduled commercial airline traffic in the Tampa Bay Area uses Tampa International Airport (TPA, ten miles to the east), St. Petersburg-Clearwater remains a destination airport for low-cost and charter carriers, notably several from Canada. St. Petersburg/Clearwater serves as a focus city for Las Vegas based carrier Allegiant Air The airport also serves as the gateway airport to Pinellas County.
Because of its lesser pace of operations, PIE/PIET01 is frequently used instead of TPA as a destination airport by pilots of private planes and executive jets for access to the Florida bay area.
The St. Petersburg-Clearwater International Airport offers a wide variety of affordable and convenient ground transportation services to take you where you need to go. Whether it's the famous white, sandy beaches or a business appointment at one of the major businesses in the Tampa Bay region, we'll can help get you there. The Airport offers vehicle rental service from the following well-known providers: Avis, Budget, Dollar, Enterprise and Florida Sun Car Rental. FSRC offers car rentals from large national agencies at rates which are lower than booking direct.
Rental Car Information for St Petersburg Clearwater Airport
Located 6 miles north of St. Petersburg, Florida, the St. Petersburg-Clearwater International Airport sits close to the center of St. Petersburg, which is near Sarasota, Clearwater and Tampa. Walt Disney World is 90 minutes (1.5 hrs) from the Sarasota airport.
Once travelers have landed picking-up your rental car is convenient. All Rental Car services are on-site except for Dollar, which is located offisite.
If you want to rent a vehicle before arriving at the St Petersburg Airport, look no further than our Florida vehicle rentals.

Getting around St. Petersburg Florida in your Rental Car
Florida Sun Car Rental offers rental cars for St Petersburg Florida and the greater Bay Area of Florida. Our car hire rates our often lower than posted. View our rental car fleet for more info. Contact us today for your quote.