Car Rental Lot Locations for TLH - Tallahassee Regional Airport
Tallahassee Regional Airport (TLH)
3300 Capital Circle SW
Tallahassee, FL 32310
Phone: (850) 891-7800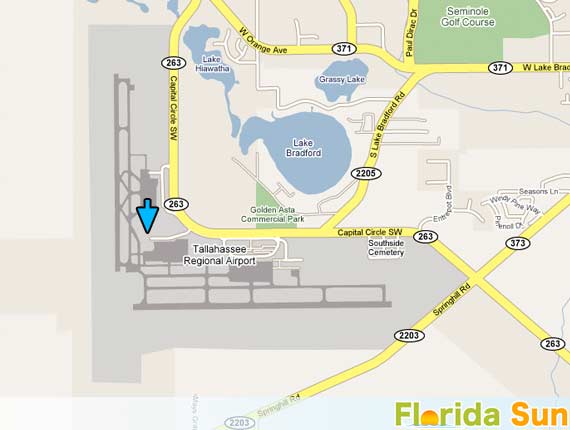 Tallahassee Regional Airport (IATA: TLH, ICAO: KTLH, FAA LID: TLH) is a public airport located 4 miles (6 km) southwest of the city of Tallahassee in Florida.
Tallahassee Regional Airport began operation as Tallahassee Municipal Airport with a dedication on April 23, 1961. The flag of the United States was presented to the City of Tallahassee by Captain Eddie Rickenbacker, Chairman of the Board of Eastern Airlines. Eastern Airlines inaugurated the opening of the airport by ferrying city, state and chamber of commerce officials to Tallahassee. An aerial demonstration was also performed by military aircraft. Tallahassee Municipal replaced Dale Mabry Field which closed that same year.
The Tallahassee airport market area of more than 1.4 million total population includes Tallahassee, eleven neighboring Florida counties and twelve southern Georgia counties. Tallahassee Regional Airport accounts for more than a third of air passenger travel in Northwestern Florida.
Rental Car Information for Talahassee Regional Airport
Ground Transportation and Vehicle Rental services provide the intermodal transportation connection between the Airport and other facilities, offices, and businesses throughout the region. Currently Vehicle Rental services are provided by the following agencies. Budget is the only agency located off-site.
If you want to rent a vehicle before arriving at the Tallahassee Regional Airport, look no further than our Florida car rentals.

Getting around Tallahassee in your Rental Car
Florida Sun Car Rental offers rental cars for Tallahassee Florida. Our vehicle rental rates our often lower than posted. View our rental car fleet for more info. Contact us today for your quote.