What about toll-roads. Can I get a Sun Pass for my rental car?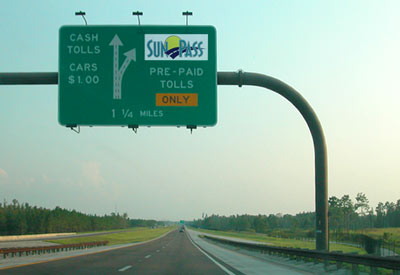 Have you ever been breezing along a freeway and suddenly realized that you don't have the required change for the toll road ahead? Or, worse yet, you have change, but you're in an electronic only tolling area. This can be frustrating to non-residents who are visiting Florida and don't have the necessary Sun Pass.
The easiest solution to dealing with tolls in Florida is to ask for the toll pass your rental car company provides at their rental desk. Each of our partner rental companies provides them. However, they also each provide individual policies with separate programs and fees. To review what you can expect at each rental desk, visit this website: www.sunpass.com/rentalcar
As a visitor, you also have an option of purchasing your own toll pass in Florida. If you know where you'll be driving, and would like to purchase the pass yourself, this link will fill you in on all you need to know to buy the correct pass: www.sunpass.com/index
As you'll read in the links above, all Florida rental car licenses are registered with their toll authority, so driving through a toll area without a pass will come back to haunt you. Please don't let the few cents saved in a fare cause you unnecessary expense and taint what otherwise would be, a lifetime of wonderful memories.

Looking for a rental car in Florida? Learn More >>