Car Rental Lot Locations for SRQ - Sarasota-Bradenton International Airport
Sarasota Bradenton International Airport (SRQ)
6000 Airport Circle
Sarasota, Florida 34243
Phone: (941) 359-5040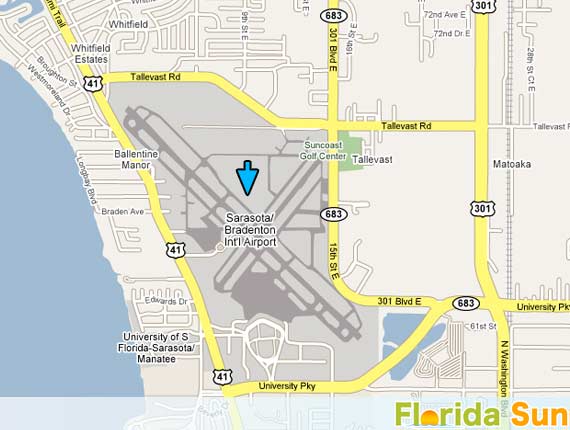 Sarasota-Bradenton International Airport (IATA: SRQ, ICAO: KSRQ) is located in Sarasota, just south of Bradenton, Florida. The airport is shared by both Manatee County (airfield) and Sarasota County (terminal). Most airlines refer to the airport on destination maps and flight status displays as just "Sarasota", as that is the larger and more widely known city. The airport is usually referred to locally as "SRQ" (the airport code). A large portion of the airport's commercial airline service occurs during the winter and spring months, as the area is a popular tourist destination and seasonal home for snowbirds during the Winter and Spring months.
Sarasota Bradenton International Airport (SRQ) has been selected as Commercial Service Airport of the Year by the Florida Department of Transportation (FDOT). FDOT announced their 2007 aviation awards at the annual Florida Airports Council Conference.
This is the second time SRQ has been awarded this designation by FDOT, the last being in 1993.
Rental Car Information for Sarasota Bradenton International Airport
Rental cars may be obtained from eight on-site car rental companies which have rental counters conveniently located in the baggage claim wing. The cars are located in the rental car lot just a short walk across the street. Rental cars are returned to this same lot with quick access to the terminal building for departing flights. Listed below are the companies and their contact information.
If you want to rent a vehicle before arriving at the Sarasota Bradeton Airport, look no further than our Florida vehicle rentals.

Getting around Sarasota in your Rental Car
Florida Sun Car Rental offers rental cars for Sarasota Florida and beyond. Our car hire rates our often lower than posted. View our rental car fleet for more info. Contact us today for your quote.