Car Rental Lot Locations for SFB - Orlando Sanford International Airport
Sanford International Airport (SFB)
1200 Red Cleveland Boulevard
Sanford, Florida 32773
Phone: 407-585-4000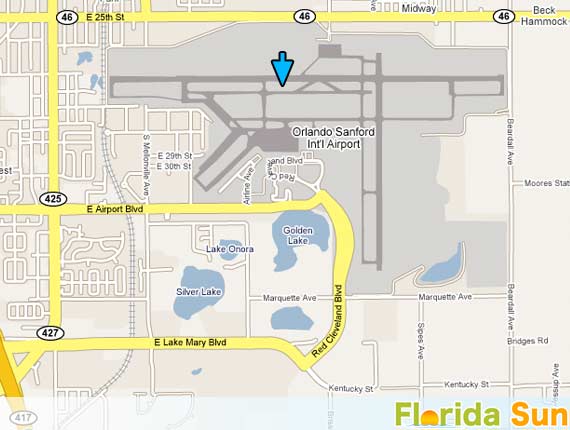 Orlando Sanford International Airport (IATA: SFB, ICAO: KSFB) is an airport in Sanford, Florida, which is close to Orlando (18 miles northeast of Orlando). Mostly due to heavy flight training at the airport, it is consistently in the top thirty busiest airports in the world in total operations (using takeoffs and landings as a form of measurement). It (SFB) functions as Orlando's secondary airport but is farther away from the attractions of (Walt Disney World, SeaWorld Orlando and Universal Studios Florida) than the larger, primary airport of Orlando International.
The airport in Sanford is situated on approximately 2000 acres. Orlando Sanford International Airport boasts some of the finest leisure passenger facilities in the US. The airport is conveniently located within the boundaries of the City of Sanford, in the northwestern section of beautiful Seminole County, Florida. SFB provides its customers with convenient, state-of-the-art facilities and excellent highway access to Florida's renowned beaches and all Orlando area attractions.
The airport is owned by the Sanford Airport Authority and managed by one of the world's leading airport operators. Orlando Sanford International Airport is also served by many British carriers. The Sanford Airport Authority is wholly responsible for the development, maintenance and operation of the Orlando Sanford International Airport and the airport's facilities.
Rental Car Information for Orlando Sanford International Airport
All of our car rental partners such as Avis, Dollar, Enterprise and others have offices at the Orlando Sanford International Airport terminal. Passengers are requested to make their way to the respective counters upon arrival. Additionally, shuttle services are available from the airport to many other rental car agencies such as Budget, which operate from off-site locations near the SFB airport.
If you want to rent a vehicle before arriving at the Orlando Sanford Airport, look no further than our cheap Florida car rental services.

Getting around Sanford in your Rental Car
Florida Sun Car Rental offers rental cars for Sanford Florida and beyond. Our car hire rates our often lower than posted. View our rental car fleet for more info. Contact us today for your quote.