Car Rental Lot Locations for RSW - Fort Myers Southwest FL Airport
Ft. Myers - Southwest Florida Int'l Airport (RSW)
11000 Terminal Access Road, Suite 8671
Fort Myers, FL 33913
Phone: (239) 590-4800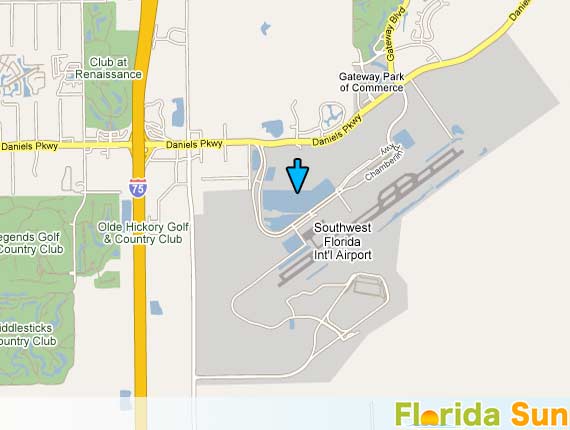 Southwest Florida International Airport (IATA: RSW, ICAO: KRSW, FAA LID: RSW) is a public county-owned airport located in South Fort Myers, Lee County, Florida, United States. The airport's service market is Southwest Florida, particularly greater Fort Myers. RSW was first conceived in 1973, when it became apparent that the existing airport in Fort Myers, Page Field, would not be able to accommodate new aircraft and increased air traffic.
The government of Lee County selected a site near Interstate 75. Groundbreaking was held in 1980, and Southwest Florida Regional Airport opened on schedule, May 13th, 1983. The airport was renamed Southwest Florida International Airport in 1993, although it had hosted international flights since 1984. The designator RSW was originally assigned for "Regional South-West" (for Southwest Florida Regional Airport); however, as the name of the airport has changed, the Lee Co. Port Authority has re-branded the airport's designator code as "Ready to Serve the World".
In 2006, total passengers numbered approximately 7,643,000. The airport is one of the top 50 busiest in the U.S. and in 2006 was ranked among the top ten airports by J.D. Power & Associates.
Rental Car Information for Southwest Florida International Airport
RSW's airport Rental Car Service Center is located on the ground-level of the parking garage directly across from the baggage claim exit. Arriving passengers should proceed downstairs, exit baggage claim and walk across the street to the rental car counters. Customers will walk into the service center and drive out the back. No need for rental car shuttles. When returning vehicles, please follow signs for Rental Car Return as you approach the terminal building. The rental car parking is located on the lower level of the parking garage.

Getting around Fort Myers in your Rental Car
Florida Sun Car Rental offers rental cars for Ft Myers and beyond. Our rates our often lower than posted. View our rental car fleet for more info. Contact us today for your Florida rental car quote.