Car Rental Lot Locations for PNS - Pensacola Regional Airport
Pensacola Regional Airport (PNS)
2430 Airport Blvd #225
Pensacola, FL 32504
Phone: (850) 436-5000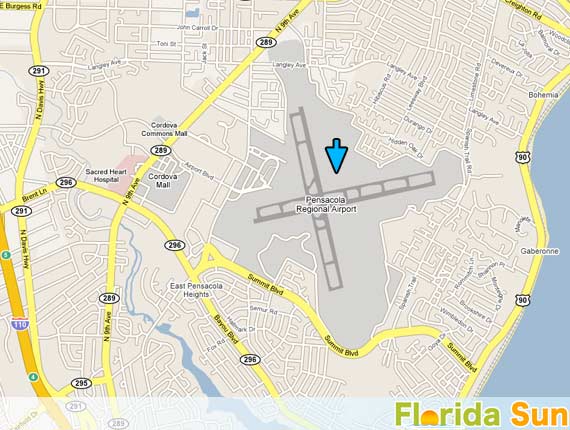 PNS is located in Escambia County, approximately three miles northeast of the central business district of the City of Pensacola. Escambia County is located on the Gulf of Mexico in the extreme western portion of the Florida Panhandle and borders the State of Alabama on the west and north. On the east, Escambia County is bordered by Santa Rosa County, Florida.
The Pensacola Airport provides easy access to the area's numerous sandy beaches, the Nat'l Museum of Naval Aviation and many other historical and natural attractions. PNS is serviced by six major airlines and their affiliated regional jet services. The terminal, which was remodeled in the 1990s, consists of two levels: baggage claim and ticketing on the main level and the arrival and departure concourses on the second level. Your options are limited to a Restaurant and News & Gift Shop on the terminals second level if you want to eat or find something to read before your flight departs.
Rental Car Information for Pensacola Regional Airport
Pensacola Airport car rental agencies provide an array of vehicle choices, whether our customers are looking for luxury vehicles, sport utility vehicles, or economy cars, the car rental agencies at Pensacola Airport have the rental car you are looking for.
The on-site car rental agencies at Pensacola Airport including: Alamo, Avis, Budget, Dollar, Hertz, and National. Off-site car rental agencies include Enterprise and others, which both have offices close to the airport as well.
If you want to rent a vehicle before arriving in Pensacola, look no further than our discount Florida car rental service.

Getting around Pensacola in your Rental Car
Florida Sun Car Rental offers rental cars for Pensacola FLA and beyond. Our rates our often lower than posted. View our rental car fleet for more info. Contact us today for your Florida rental car quote.