Car Rental Lot Locations for MLB - Melbourne International Airport
Melbourne International Airport (MLB)
1 Air Terminal Pkwy # 220
Melbourne, FL
Phone: (321) 723-6227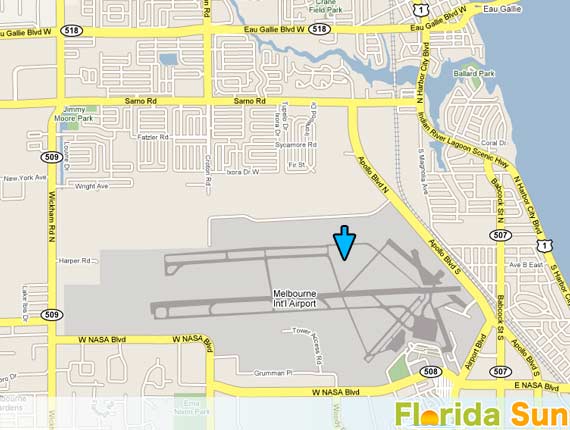 Melbourne International Airport (IATA: MLB, ICAO: KMLB, FAA LID: MLB) is a public airport within the city limits of Melbourne, a city in Brevard County, Florida. Located on central Florida's Space Coast, the airport is accessed via NASA Boulevard (State Rd 508). The airport serves about half a million people annually. The airport budget is contained within the City of Melbourne municipal budget. The Airport is governed by a small board which is appointed by the Melbourne City Council and the private sector.
Melbourne International Airport had its beginning in 1928 when a Pitcairn Aircraft landed on a cow pasture strip north of Kissimmee Highway.
Airmail service began in late 1928 when the airport was designated a fueling stop. In 1933, the City of Melbourne acquired 160 acres west of Indian River Bluff to develop as a new location for the Melbourne airport.
The airport was returned to the city of Melbourne, FL as surplus property after the War. Not long after, the Melbourne Airport was deeded to the city in 1947 and was operated as a municipal airport until 1967 at which time the city created the Melbourne Airport Authority to plan, operate, develop and maintain the airport.
Rental Car Information for Melbourne International Airport
For your convenience, our discount car rental services are located near the baggage claim area of the Main Terminal at MLB.

Getting around Melbourne in your Rental Car
Florida Sun Car Rental offers rental cars for Melbourne and greater Florida. Our rates our often lower than posted. View our rental car fleet for more info. Contact us today for your Florida rental car quote.