Car Rental Lot Locations for JAX - Jacksonville International Airport
Jacksonville International Airport (JAX)
2400 Yankee Clipper Dr
Jacksonville, FL 32218
Phone: (904) 741-2000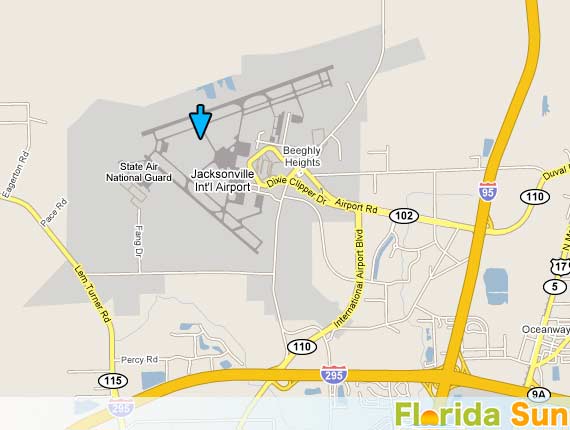 Jacksonville International Airport (IATA: JAX, ICAO: KJAX, FAA LID: JAX) is a public airport located nine miles (14 km) north of the central business district of Jacksonville, a city in Duval County, Florida, United States.
Construction of the airport started in 1965, in order for the city to accommodate a more cosmopolitan populace which was introduced with the sizable military base in the region. Jacksonville International was finally opened late 1968, replacing the antiquated Imeson Airport.
Initially the airport was slow to expand, only serving two million passengers a year in the early eighties. However, the addition of more airline service in the late 1980s and early 1990s saw the need for more space in the complex. The airport served over five million passengers annually by 1999, and an airport expansion plan was approved in 2000. The first phase, which included rebuilding the landside terminal, the central square and main concessions area, as well as consolidating the security checkpoints to a single location, and adding more parking capacity was completed in 2004-2005. In 2006, nearly six miilion passengers were processed.
The airport's two runways are laid out in "V" configuration (with the bottom tip of the "V" pointing West). A long-range plan exists to build two additional runways, each paralleling one of the existing runways. A new runway alongside the existing southern runway will be built first, however, no date has been set yet for implementing the runway expansion plan. Jacksonville International Airport's terminal has 3 large concourses.
Rental Car Information for Jacksonville International Airport
At JIA, all ground transportation services -- including rental car agencies, taxi and limousine services - are located on the lower level of the terminal building adjacent to baggage claim.
Rental Car Return
To return an on-airport rental car, drive directly into the ground floor of the parking garage, which is adjacent to the terminal building.

Getting around Jacksonville in your Rental Car
Florida Sun Car Rental offers rental cars for Ft Walton and beyond. Our rates our often lower than posted. View our rental car fleet for more info. Contact us today for your Florida rental car quote.