Car Rental Lot Locations for EYW - Key West International Airport
Key West International Airport (EYW)
3491 S Roosevelt Blvd
Key West, FL 33040
Phone: (305) 296-5439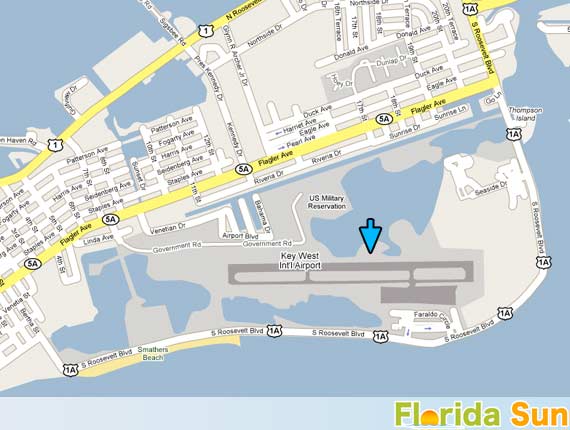 Key West International Airport (IATA: EYW, ICAO: KEYW, FAA LID: EYW) is a county-owned public airport located two miles east of the central business district of Key West, Florida. The Airport serves travelers from all over the globe. EYW is located on the Sortheast end of the island of Key West, just a short distance away from many Key West accommodations, attractions and Duval Street in downtown Key West.
The Key West Airport is located about 180 miles southwest of Miami International Airport. Many travelers land at MIA in Miami instead of taking a connecting flight. After landing in Miami travelers typically rent a car and take the 4 hour drive down to The Keys. Please note: flights departing from EYW often have strict weight or baggage restrictions due to the short length of the runway.
Key West International Airport covers an area of over 250 acres, which contains one asphalt paved runway. The airport had 94,408 aircraft operations, an average of 258 per day: 51% general aviation, 29% air taxi, 14% military and 6% scheduled commercial. There are almost 50 aircraft based at this airport. A rental car may be optional if you are staying close-in by Duval Street. You could always rent an alternative for of transport.
Rental Car Information for Key West International Airport
All of the ground transportation services, including rental car agencies - are located in the terminal building.

Getting around Key West in your Rental Car
Florida Sun Car Rental offers rental cars for Key West, Key Largo and the entire Florida Keys. Our rates our often lower than posted. View our rental car fleet for more info. Contact us today for your Florida rental car quote.